The Changing Decision Criteria for Outsourcing or Insourcing Facilities Management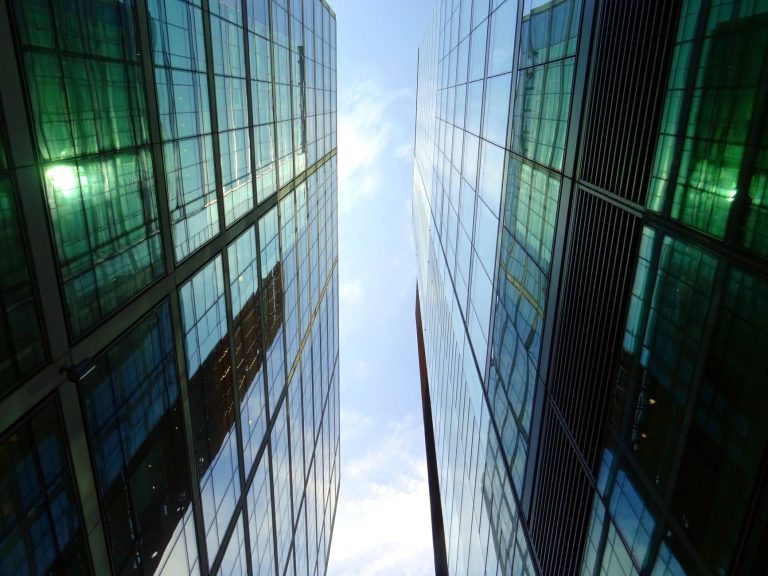 Outsourcing usually means hiring a service provider to manage a function, provide an end-to-end service, or deliver multiple services. For example, outsourcing facilities management to one provider can entail either the service provider self-performing the services or managing multiple specialty service providers (e.g., cleaning, mail, concierge services, electrical, HVAC, etc.) to assume the responsibility of managing their clients' owned and/or occupied locations. Out-tasking refers to the process of an internal facilities team hiring specialty firms directly and retaining the direct management of the facilities services oversight internally. It has become rare for an FM team to perform all services in-house for many reasons, as explained in the chart below. It is also rare for an outsource service provider to directly staff and self-perform all required and needed services in every location. This situation usually ends up in either the in-house facilities team or the outsource facilities provider, as the case may be, out-tasking, i.e., subcontracting to specialty service firms, as needed. Given the topic of this blog post, we will focus on the management of facilities services versus self-performance of the actual facility services.
The question becomes who is directing and managing the various services provided at an organization's facilities and what technology, tools, and processes are needed for the short-term and longer-term facilities management strategy. Historically, the decision to outsource or insource was based on closing a value gap for the organization between what a service provider could offer versus an in-house team. This value-added layer became the criteria real estate and facilities departments would consider when structuring the contract for how they wanted the services delivered. 
Sample of historical criteria used for a decision to outsource FM: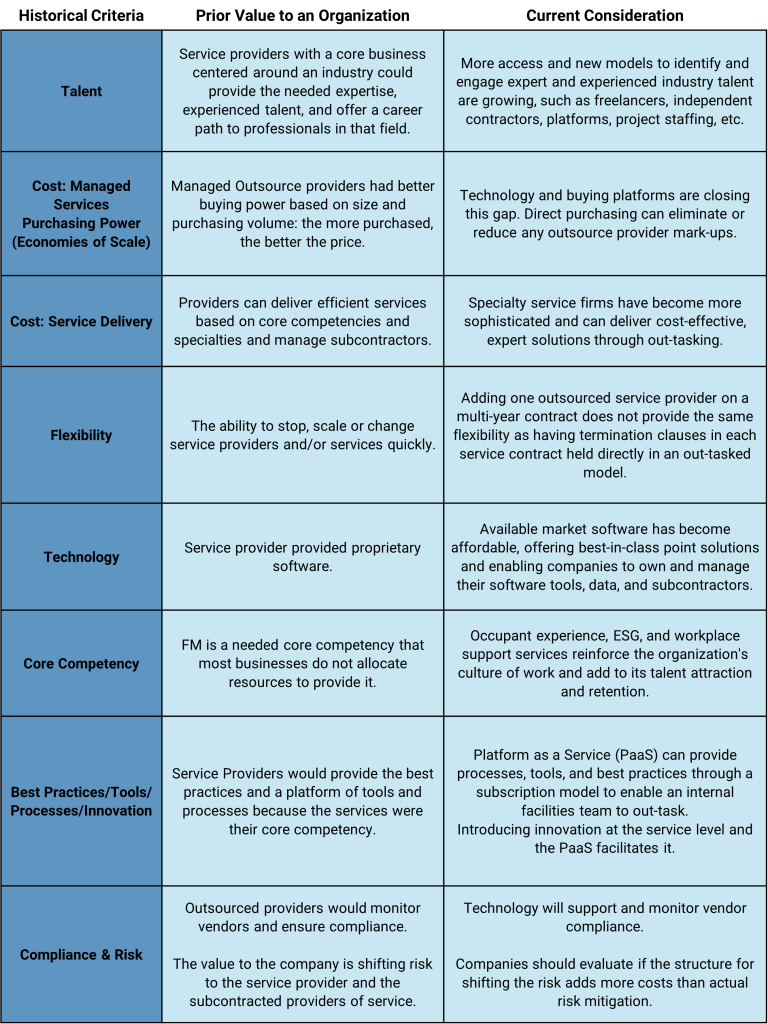 The criteria and structure might change when a company decides to outsource RE transactions, lease administration, project management, and facilities management to one provider. However, the foundation of decision criteria can be the same for all CREF functions. 
Influence of the changing organizational structures:
CRE and FM organizations should be considering the following four main functional/departmental components: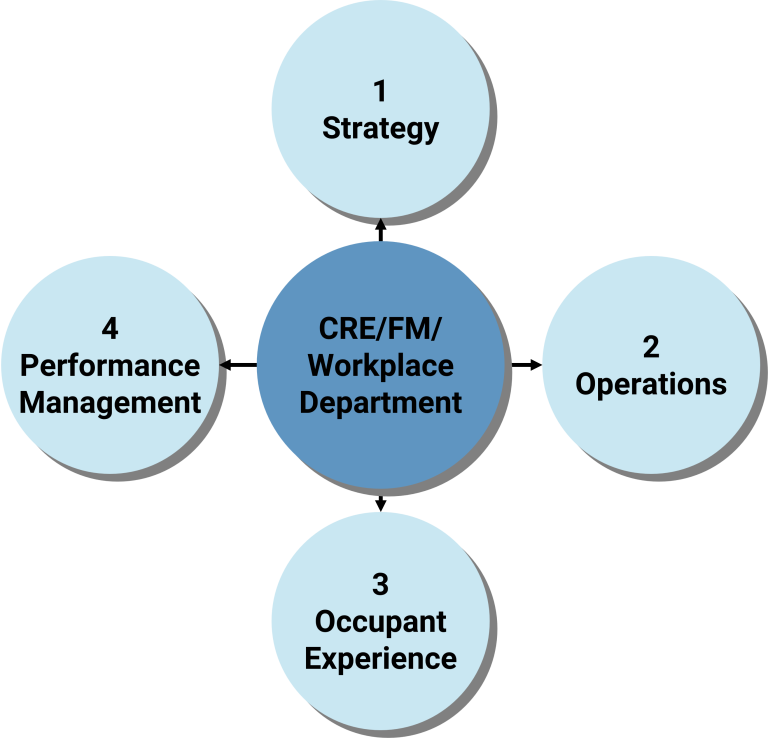 Strategy will focus on how CRE & FM can support the business. This includes strengthening the vision and aligning the vision to operations, portfolio planning, and location selection. 
Operations will focus on the quality and cost of service delivery. Proactively and directly overseeing the managed outsourced service provider(s). Operations should include other CRE functions such as transaction management, lease administration, project management, ESG/Sustainability, etc. 
Occupant Experience will include workplace design and occupancy planning to enhance the occupants' experience.  
Performance Management will focus on monitoring and providing insights into other functional areas and business acting like a Center of Excellence for an organization. Data analytics, smart building technology, and experience monitoring drive innovation and continuous improvement. CREF leaders will need to be more data-savvy and forward-thinking to lead and support these departments and adjust to and adopt the contract and organizational structures necessitated by the changing business environment. 
When considering these changes to business and the industry, new criteria come into play for deciding whether or not to outsource or insource. Below is a chart outlining some examples of the new criteria and related questions an organization should consider when determining the best course of action to pursue outsourcing or insourcing the management of its FM services: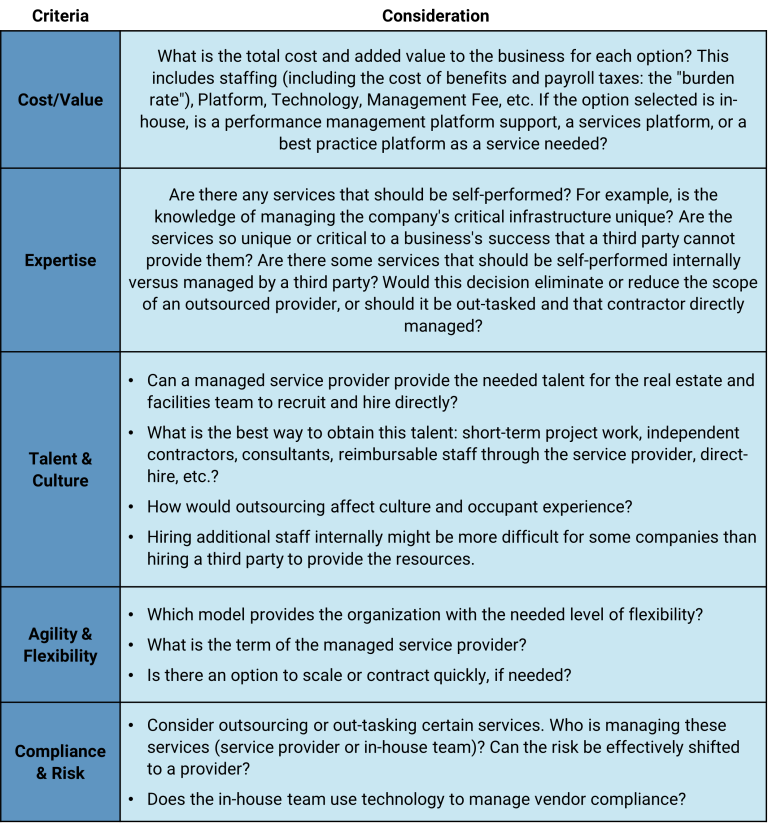 For more information on how Blue Skyre IBE can support your organization please contact us.