Manage a Successful Return to the Office: The Return to Office Workbook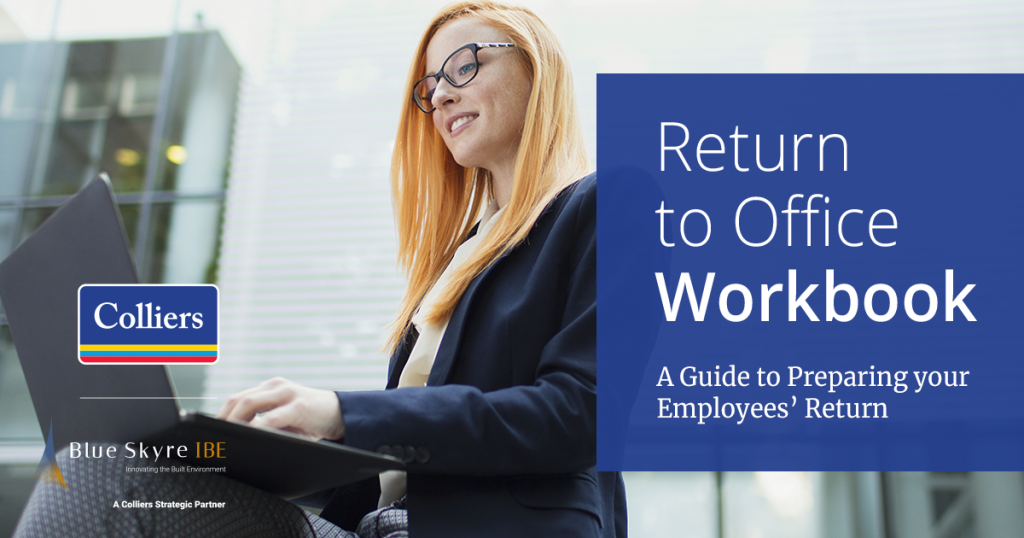 With health and safety, employee retention, and recruitment currently among our clients' top priorities, organizations need to get their return to office right. A successful re-entry requires a cross-functional team spanning an entire organization.
Blue Skyre IBE and Colliers have partnered to develop the Return to Office Workbook: A Guide to Preparing your Employees' Return. The guide provides tactical recommendations, case studies, and insights to prepare your facilities and real estate teams as you plan and manage a successful return to the office.
The workbook provides collective expertise and helpful tips organized in five key areas:
1. Protocols: Do you have the right procedures in place to ensure a successful return to office?
2. Building Services: Have you revised your building services program to fit the shift in employee work patterns?
3. Workplace Readiness: Have you analyzed and prepared your office space for a successful return?
4. Technology Enablement: Do you have the right technology solutions to manage a full return to the office and any other hybrid solutions?
5. Communications & Training: Have you developed communications processes and materials to answer questions about return to office?
As always, Blue Skyre is ready to assist with your return to office. Please let us know how we can help you.
Download your copy of the Return to Office Workbook today.